2021 has been an incredibly busy period with our Installation Teams Installing a high number of Air Source Heat pumps during the year – Grant Aerona 3 is still our unit of choice due many factors, but more so because of reliability and the equipment doing what it should.
With a 7 Year Parts and Labour Warranty offered to all our Clients, giving peace of mind to our Customers from Grant UK, we will continue to offer this unit as our first choice.
We have also this year Installed the Mitsubishi Ecodan and the Vaillant Heat pumps which do and will perform to exceptional high standards – We will always look at the best solution
We are Pleased and Proud to announce that we are Approved with the Micro-generation Certification Scheme to Design, Supply, Install and Commission Air Source Heat Pumps. In addition we are also registered with the following Organisations.
Trustmark
RECC
Government Green Deal
BUS Scheme BUS0000090
APHC
Our MCS Registration no is APH46700
for the latest in Air Source Heat Pump Technology please visit one of the following links, We are Approved Installers Grant UK and Mitsubishi  and believe they all offer Unrivalled Support and Technical Knowledge.
Air Source with an Oil Boiler as Back Up –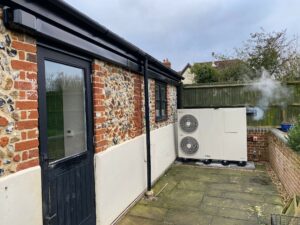 Here are some useful videos on the set up of the Heat Pump Controller
our Eco Installer Registration Number with Grant UK is EA04-023
Our Mitsubishi Approval no is ECOMEU283
Many have heard of ground source heat pumps and the high efficiency levels they can offer but few have realised that Air Source Heat Pumps can also offer significantly higher levels of efficiency when compared to traditional methods of heating our homes.
Air source heat pumps are much easier to install than ground source so they are more suitable for a wide variety of properties from flats to detached houses.
The Mitsubishi Ecodan and Grant Aerona 3  air source heat pump system consists of an external box which is fitted to your outside wall.  It harvests renewable, low grade energy from the outdoor air and upgrades this into useful heat
For every 1kW of electricity fed into Heat Pump, you will get at least 3kW of heating energy.
The outdoor unit is a bit like your fridge in that it has a circuit of factory-sealed copper piping containing ozone-friendly refrigerant, which is continually compressed and expanded to extract the free, renewable energy from the air.
Your fridge extracts heat from the box inside (to keep food cold) and rejects it at the back. The air source heat pump works a bit like this but in reverse in that it extracts heat from the outdoor air and upgrades it to heat up your hot water supply.
It can work efficiently all year round even if the outdoor temperature should drop to -15ºC.
The Grant UK and Mitsubishi Ecodan range of air source heat pump systems have been developed specifically for the UK and bring advanced, inverter-driven technology refined in the commercial heating sector to your home.